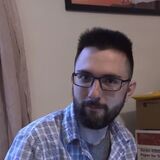 Alex was one of Stephen's college roommates, who he dormed with every year. They met on Starmen.net and decided to become roommates when they found out they were both going to attend SCAD. His first appearance was on Day 40. Since then, he continues to appear on StephenVlog and StephenPlays.
Alex is rather sarcastic, which leads people to think that he has ill will toward Stephen and anything related to the vlog. However, they are best friends and his comments are mostly friendly ribbing. This is supported by Stephen and Mallory travelling together with Alex and Hayley on several occasions.
After college, he moved to California to work in the games industry. At PAX Prime 2013, he met Mal's college roommate, Hayley, and they start dating shortly after. They were engaged on July 23rd, 2016. They now live together in Alabama, where Alex is from.
Notable appearances in vlogs
Edit
Alex's birthday is January 2nd.
Alex can speak Spanish to some extent, and has a great accent.
He is very good at singing, as seen here.
His Starmen.net username was wasabimilkshake, which he still uses as a username from time to time.
Community content is available under
CC-BY-SA
unless otherwise noted.