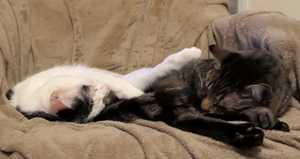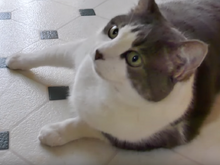 Astronocats is a name that refers to Stephen and Mallory's cats, Sagan and Kepler, because they were named after famous astronomers Carl Sagan and Johannes Kepler.
On Day 3133, Rocko, the original vlog cat, was also deemed to be an honorary Astronocat.
The cats have their own Astronocats videos on StephenVlog, in which Stephen or Mal (or sometimes Steve) records their shenanigans and cute moments. They are listed below in reverse chronological order, with the most recent video on top.
Astronocats Videos
Edit
Kepler Play Time! • Astronocats 🐈
Place Pants on Cat • Astronocats 🐈
Undercover Kitties • Astronocats 🐈
Forced Bath • Astronocats 🐈

Go-Gurt for Cats! • Astronocats 🐈
Refilling the Food • Astronocats 🐈
Pet Food Launcher • Astronocats 🐈
Watching Neighbor Cat • Astronocats 🐈

Rocko Licks... Nothing.
Sagan vs The Ribbon - Astronocats

Bottlecap - Astronocats
Sunny Cuddles - Astronocats
Slow Motion - Astronocats
Back Cat - Astronocats
Billions of Crinkle - Astronocats

Weird Drinkers - Astronocats
Bug Eating 2 - Astronocats
Bug Eating - Astronocats
Sagan In The Box - Astronocats
Kep In The Box - Astronocats
Got Your Tail! - Astronocats
Making the Bed - Astronocats
Wash Wash Bite - Astronocats
Dip and Lick - Astronocats

Reflections - Astronocats
Medicine Time - Astronocats
Sink Drink - Astronocats
First Thunderstorm - Astronocats
Time Out - Astronocats
The Newegg box - Astronocats
Eating Grass - Astronocats
Sleepy Bath - Astronocats
Bobblehead - Astronocats
Tail Chasers - Astronocats
Calm and Cuddly - Astronocats
An Average 8 Minutes - Astronocats
The Splenda Box - Astronocats