Broken Picturephone is an online version of the popular tabletop game Telestrations developed by Chaz. The platform has been used in multiple episodes of Stephen & Friends. From Episode #12 onward, each episode includes a Discord tab that allows viewers to see who is talking at any given time.
A playlist of all Broken Picturephone episodes can be found here.
Gameplay
Edit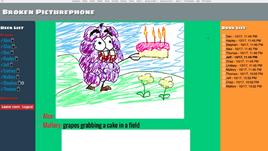 The game follows the same basic rules as the tabletop version, with open-ended gameplay and no set perimeters to determine a "winner". A game usually opens with a player receiving either a written prompt or a player's drawing. The player then responds with the opposite action, i.e. creating a drawing for a sentence or writing a sentence based on a drawing.
Broken Picturephone differs from Telestrations in that there is no set time limit. There are also no suggested categories or prompts, so users are encouraged to start with outlandish or surreal statements or scenarios instead.
As with most Stephen & Friends content, episodes of Broken Picturephone are uncensored, however, there is still a standing rule against graphic imagery such as genitals, although that has been ignored in a few episodes (usually by Alex).
Episodes
Edit
Appearances
Edit
The following table lists who appeared in each episode of Broken Picturephone:
Memorable Moments From This Series
Edit
Who drew the Thumbnails
Edit
Chaz
Lindsey
Mal
Stephen
Paul
Jeff
Thomas
Hayley
Tom
Times Images have been censored
Edit
Alex
Emmy
Lindsey
Hayley
Community content is available under
CC-BY-SA
unless otherwise noted.