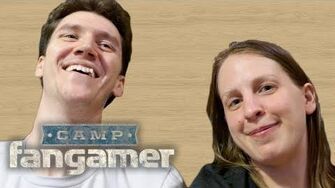 Previous Vlog (Day 2445) | Next Vlog (Day 2447)
Locations
Edit
Stephen and Mal's apartment
It's been a few days since Stephen and Mal returned from their recent trip to LA and Tucson, so they take some time to reflect on it.
The LA portion of the trip can be summed up in the word "relaxing". Stephen and Mal made a conscious effort to just do things without a particular agenda, and it paid dividends. Alex and Hayley also got engaged, and that was one of the main highlights of the trip.
As for Camp Fangamer 2016, Stephen felt that the live stream of Mother 3 only one of the attractions in contrast to last year's convention. The festivities were more spread around this year: there was a console room/arcade, a plushie-making room, a merch museum, and a box fort construction room. Stephen and Mal spent a lot of time meeting with and talking to many people, including viewers and patrons.
The finale of the convention was also incredibly different. Last year's finale was, in a word, chaotic. This year, the finale suited the tone of Mother 3 very well (no spoilers), and was primarily focused on emotional impact rather than chaos.
On the whole, the convention fit the tagline of Mother 3 very well: "Strange, Funny and Heartrending". The mannequin who "played" Lucas ended up losing his arms, and they could not be found. He is currently sitting in the Fangamer office's customer service window.
Stephen invites the people who attended the convention to share their thoughts below.
Community content is available under
CC-BY-SA
unless otherwise noted.