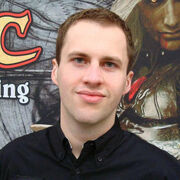 Chaz is one of Stephen's friends from starmen.net.
Before StephenVlog started, Chaz voiced Paula's dad in Fobbies are Borange and starred as the bus driver in Fobbies are Borange: THE MOVIE.
Chaz was first mentioned on the vlog on Day 168, and first appeared on the vlog on Day 244. 
Alongside his husband Jeff, he has co-hosted "Cheffcon" (Chaz-and-Jeff-con) numerous times at their home in Muncie, IN. He and Jeff have also appeared many times in the Stephen & Friends series on StephenPlays.
He has programmed online versions of Broken Picturephone, Joking Hazard, and 1,000 Blank White Cards, which has allowed Stephen to bring these games to Stephen & Friends.
He is a fellow cat lover, owning three cats: Elspeth, Venser, and Koth.
He used to do theatre, and demonstrated his acting prowess with Thomas during a Breakfast Stream during Cheffcon 2018.
Chaz introduced Stephen to Magic: the Gathering, which Stephen continues to enjoy and has brought to StephenPlays.
Chaz always contributes ideas for April Fools' on StephenVlog and StephenPlays.