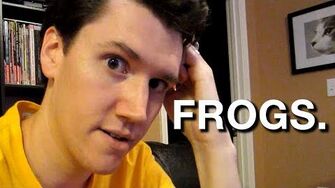 Previous Vlog (Day 2152) | Next Vlog (Day 2154)
Locations
Edit
Stephen and Mal's apartment
Stephen and Mal record Chulip today. Incredible frustration ensues.
As a reward for a hard day of work, Mal decides to make shepherd's pie using her own recipe.
Mal's recipe for Shepherd's Pie:

Ingredients:

4 large potatoes, peeled and cubed
1 TBS butter
1/4 c. sour cream
salt and pepper to taste
1 TBS vegetable oil
1 lb ground lamb (lean hamburger would work fine too)
2 TBS flour
1 onion, chopped
1 clove minced garlic
1 TBS ketchup
1/4 c. Worcestershire
packet of brown gravy
1 c. water
a bag of frozen peas and carrots

Steps:

Bring a large pot of salted water to a boil. Add potatoes to the water, and cook until tender but still firm (around 15 mins). Drain and mash the potatoes. Then, mix in 1 TBS butter, 1/4 C. Sour Cream, and salt and pepper to taste.
Preheat oven to 375º F.
Heat 1 TBS vegetable oil in a pan. Add onion and garlic, and cook until onion is clear. Then, add in the meat and cook until well browned. Pour off fat.
After that, stir in 2 TBS flour and cook it for 1 min. Add in 1 TBS ketchup, 1/4 c. Worcestershire, packet of brown gravy and 1 c. water. Then, add in frozen vegetables. Let it simmer and thicken.
Pour the vegetable/meat mix into a casserole dish. Top it with mashed potatoes and put a few thin slices of butter on top.
Cook at 375ºF for 20 mins.