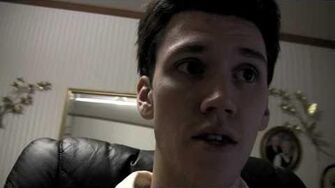 Previous Vlog (Day 0) | Next Vlog (Day 2)
Locations
Edit
It's the day before Thanksgiving, and Stephen begins the video by explaining his Black Friday plans. He's also playing Super Princess Peach for the Nintendo DS and notes that it's actually a good game, though you shouldn't tell anyone that.
He then proceeds to detail how he recently started playing Magic: the Gathering and bought a deck of cards that night. Inside he found a hard-to-find Mythic Rare card, the "Darksteel Colossus", from which the episode gets its name. He also tells that he purchased Left 4 Dead 2 for $30 from Dell during a promotion.
He finishes the day by talking about his disgust of cold weather, and asks viewers to comment if they're from anywhere "above the Mason Dixon". By this he means anywhere above the northern border of Maryland, or the northern area of the United States.
The name of this video comes from the name of a Magic: The Gathering Card.
This is one of the only vlog days shot on the Canon HV20. (Vlog days 0-6 were shot using this camera).
This is the first time Magic: the Gathering is spoken of. It will soon become a drawing point of StephenVlog.
This marks the first appearances of Austin, Jarrett, and Justin.