m

Line 1:
Line 1:
 

[[File:Earthbound - "Edisnoom" Painting (Full Version)|thumb|right|335 px|Earthbound - "Edisnoom" Painting (Full Version)<br/>Date: October 22nd, 2016<br/>Running Time: 23:38]]

 

[[File:Earthbound - "Edisnoom" Painting (Full Version)|thumb|right|335 px|Earthbound - "Edisnoom" Painting (Full Version)<br/>Date: October 22nd, 2016<br/>Running Time: 23:38]]

−

[[Fallout 4 - "Ruined World"|Previous Painting ("Ruined World")]] | [[Harvest Moon (SNES) - "Festival"|Next Painting ("Festival)]]

+

[[Fallout 4 - "Ruined World"|Previous Painting ("Ruined World")]] | [[Harvest Moon (SNES) - "Festival"|Next Painting ("Festival)]]

 
 
 

[https://youtu.be/_kBkdcf6SLc "Edisnoom" Time Lapse]

 

[https://youtu.be/_kBkdcf6SLc "Edisnoom" Time Lapse]

Line 15:
Line 15:
 

*Specialty Items: Golden High Flow Acrylic in: Titanium White, Chalk Pastel Pencil, Ruler

 

*Specialty Items: Golden High Flow Acrylic in: Titanium White, Chalk Pastel Pencil, Ruler

 

==Notes==

 

==Notes==

−

*Posters and prints of this painting can be purchased [http://www.redbubble.com/people/malmakes/works/23599082-edisnoom here].

+

*Posters and prints of this painting can be purchased [://www.redbubble.com/people/malmakes/works/23599082-edisnoom here].

−

*Mal has also done other paintings inspired by ''Earthbound'', which are [[Earthbound - "Ness's Dream"|"Ness's Dream"]], [[Earthbound Onett- "Onett Jazz"|"Onett Jazz"]], [[Earthbound - "Summers"|"Summers"]] and [[Intro to Painting - Earthbound Battle|"Earthbound Battle"]].

+

*Mal has also done other paintings inspired by ''Earthbound'', which are [[Earthbound - "Ness's Dream"|"Ness's Dream"]], [[Earthbound Onett- "Onett Jazz"|"Onett Jazz"]], [[Earthbound - "Summers"|"Summers"]] and [[Intro to Painting - Earthbound Battle|"Earthbound Battle"]].

 

[[Category:MalMakes]]

 

[[Category:MalMakes]]
---
Revision as of 08:25, 16 July 2018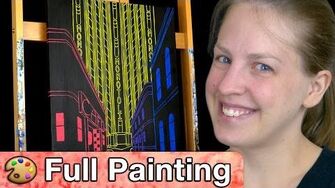 Previous Painting ("Ruined World") | Next Painting ("Festival")
Summary
"Edisnoom" is the 18th video game painting by Mal on MalMakes.
This painting was inspired by Earthbound, which has played a significant role in Mal's and Stephen's lives. Stephen has done a Let's Play of the game, and they've also played it for Extra Life 2012 and 2013.
The title of this painting is a reference to Moonside, a memorable area of the game in which everything is backwards.
Materials
Canvas: 18x24 Gessoed in black
Favorite Brushes: Blick Studio, Liquitex Basic, and Simply Simmons
Paint: Golden Heavy Body Acrylic in: Mars Black, Primary Magenta, Primary Yellow, Primary Cyan, Dioxazine Purple
Specialty Items: Golden High Flow Acrylic in: Titanium White, Chalk Pastel Pencil, Ruler
Notes
Community content is available under
CC-BY-SA
unless otherwise noted.