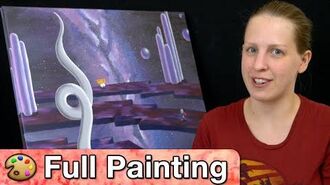 Previous Painting ("Together") | Next Painting ("World 4-3")
"Ness's Dream" is the 5th video game painting by Mal on MalMakes.
This painting was inspired by Earthbound, which has played a significant role in Mal's and Stephen's lives. Stephen has done a Let's Play of the game, and they've also played it for Extra Life 2012 and 2013.
Materials
Edit
Canvas: 18x24, gallery-wrapped, painted black
Paint: Titanium white, Mars black, primary yellow, primary cyan, primary magenta, cadmium red, golden retardant
Specialty Items: Tempered glass palette, palette knife, toothbrush, white chalk