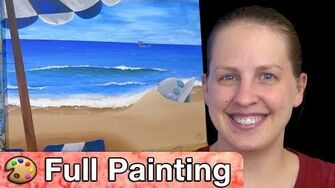 Previous Painting ("Mumbo") | Next Painting ("Castle 64")
"Summers" is the 38th video game painting by Mal on MalMakes. It features Summers, a town in the game.
This painting was inspired by Earthbound, which has played a significant role in Mal's and Stephen's lives. Stephen has done a Let's Play of the game, and they've also played it for Extra Life 2012 and 2013.
Materials
Edit
Canvas: 18x24 Gessoed in white
Favorite Brushes: Blick Studio, Liquitex Basic, and Simply Simmons
Paint:

Golden Heavy Body Acrylic in: Carbon Black, Titanium White, Primary Magenta, Primary Cyan, Primary Yellow, Ultramarine Blue, Burnt Sienna, Burnt Umber, (optional) Introductory Color Set
Golden High Flow Acrylic in Titanium White

Specialty Items: golden glazing liquid, palette knife, palette, chalk pastel pencil, molotow paint marker, fine mist spray bottle