Previous Vlog (Day 2787) | Next Vlog (Day 2789)
Taking The "Fun" Road - Mt Storm, WV
Stephen and Mallory start the day off by getting some breakfast from Concannon's, before they bid goodbye to Chaz and Jeff and leave Muncie.
Instead of going home immediately, they decide to visit Stephen's parents' hometowns of Mt Storm, WV and Frostburg, MD. Stephen has not been back there since both his grandfathers passed away within a year of each other around 10 years ago.
Their first stop is Calvary Temple Church (Mt Storm, WV), which Stephen's paternal grandfather built by hand. He was not only a builder, but a reverend - and he pastored the church until he could no longer do so.
Next, they visit Abram's Creek Lodge (Mt Storm, WV), which used to be his grandfather's house until it was sold and converted into a vacation rental. Unfortunately, a private event was happening when Stephen visited, so Stephen only manages to get a few shots of the outside of the house.
Their last stop in Mt Storm is Mt Storm Cemetery, where Stephen's grandfather is buried.
They then head to Frostburg, MD to see his maternal grandfather's old house. Thankfully, the new owner of the house was very understanding and let them go in the house to take pictures.
Next, they visit the cemetery in which his maternal grandparents are buried. Stephen has many memories of visiting this cemetery with Debra to visit her mom's grave. Standing in front of the grave, he voices his regret that his grandfather never got to meet Mal.
Afterwards, they go to surprise Sally, Stephen's great aunt, and an important family friend with an impromptu visit.
Stephen and Mallory then head over to the Gunter Hotel where they will be staying the night, which is coincidentally where Debra had her 5th high school reunion. They start exploring the hotel's basement in an attempt to find the ballroom, and end up finding various murals and exhibits along the way, including a jail!
Some time later, they finally get some dinner and Stephen tries an elk burger for the first time!
After dinner, they return to their hotel room and Stephen explains that after visiting his great aunt, he visited Marty, who shared a companionship with his maternal grandfather after his wife passed. Though the relationship between her and his grandfather was never romantic, Marty feels like an adopted grandmother to Stephen. Because of that, it was really nice to see her after so many years.
It's been an emotional day spent revisiting past memories, but they're really glad they finally decided to do this and for Stephen, "it's one of the best days [he's] had in a very long time."
"I don't consider [Mt Storm] home, this isn't my home, but when I say the phrase 'It feels good to be home', this is what I think of." - Stephen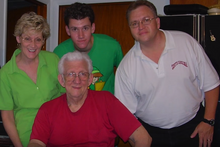 Though Stephen failed to check out the inside of Abram's Creek Lodge, he managed to find pictures of the inside of the house here. It also has a short write-up on Stephen's paternal grandfather.
His paternal grandmother has been on the vlog before on Day 1779 (10/8/14).
Stephen was very close to his maternal grandfather and has mentioned him occasionally on the vlog. Some notable instances are:
From this vlog forward (though not explicitly stated), all vlogs are released in 4K.