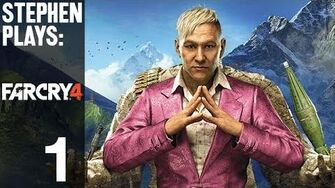 Far Cry 4
is
Stephen's
47th Let's Play, and the 1st
Far Cry
game Stephen has done as a Let's Play on
StephenPlays
. This marks the third Let's Play of a video game that was published by Ubisoft, following
Assassin's Creed
and
Assassin's Creed 2
, though Stephen has covered Ubisoft games in general on the channel including a few
Demo Fridays
and
First20
videos.
The game was first seen on StephenPlays via the Death By Far Cry 4 video which was explained on Vlog Day 1806 (11/4/14). Ubisoft invited Stephen and 24 other YouTubers, including JoshJepson, to come to their studio in San Francisco and play an early copy of Far Cry 4 while recording the game to use in their own separate videos. The game was later confirmed for a Let's Play on StephenPlays ten days later, the day "Death By Far Cry 4" game out.
Much like Grand Theft Auto V, Far Cry 4 is a game rated M for Mature by the ESRB, and as such this marks the 2nd Let's Play in which Stephen includes a viewer discretion warning at the beginning of each video.
Far Cry 4 debuted on November 26th, 2014 and concluded on March 29th, 2015.
Memorable Moments from this LP
Edit
Ubisoft provided Stephen the PlayStation 4 and PC copies of Far Cry 4, and this LP was originally going to be a PC Let's Play, though Stephen ran into some problems trying to record the PC version of the game. After getting a PlayStation 4 on Day 1827 (11/25/14), he decided to record the PS4 version of Far Cry 4.
Community content is available under
CC-BY-SA
unless otherwise noted.