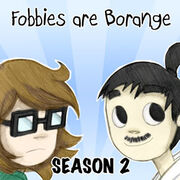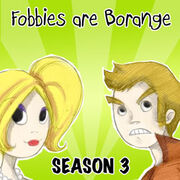 Fobbies are Borange
Edit
Fobbies are Borange is a collaborative effort between Stephen Georg, Jami Carignan, Jane Tovar and Muhammad Abdul-Rahim, "Fobbies are Borange" (or FaB) was a segment on Jami's online radio show (hosted by Starmen.net) where EarthBound came to life, live (the episodes were performed live on the show). The show ran from September 2007 to October 2008. It followed the adventures of Ness as he traveled through the game, completely rewritten to give the protagonists more character. It is divided into 42 episodes, spanning four seasons, each but the last having 12 episodes.
Loids are not Christmas
Edit
Loids are not Christmas is a spinoff of Fobbies are Borange. It's story is based on Earthbound's NES prequel, Mother, and is completely improvised unlike Fobbies are Borange which is scripted. The ninth and final episode of Loids are not Christmas aired on October 11th, 2008 and concluded the Fobbies are Borange saga.
Paulas are Bamazing
Edit
Paulas are Bamazing is a spinoff of Fobbies are Borange written and produced by Jane. It's a show that's hosted exclusively by Paula, wherein she gives advice to people who write in, and also gives tips on various househould ventures, including cleaning, doing laundry, babysitting and more.
Paulas are Bamazing first appeared after Fobbies are Borange Episode 18 - Daddy Please, when Paula was kidnapped by the Department Store Spook. The first three episodes were released in .mp3 format.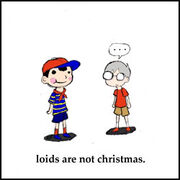 Ninten Speaks
is a spinoff of
Loids are not Christmas
that features Ninten talking about whatever he deems fit. The episodes range from 3 to 5 minutes in length. The channel also includes 56 episodes of "Ninten Plays Minecraft" where he gets lost in the
Minecraft
world.
External Link
Edit