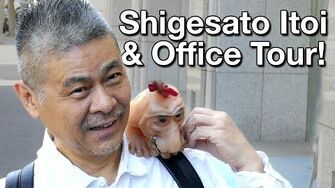 Previous Vlog (Day 2361) | Next Vlog (Day 2363)
People
Locations
Hanabi hotel
7-Eleven
Aoyama, Tokyo

Hobonichi offices
Tobichi

Shibuya, Tokyo
Harajuku, Tokyo
Summary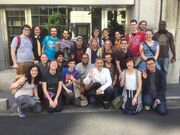 Everyone gets breakfast at 7-Eleven once again. Stephen explains that, contrary to the 7-Eleven in the USA that tends to be gas station-quality and terrible, the fast food in Japan is of very high quality. Afterwards, the Fangamer group heads out to the offices of Hobonichi for a tour of the building (Hobonichi was a company founded by Shigesato Itoi, the creater of the MOTHER series). Jeff shows off a prop he made for the Earthbound Saga series, a silicone elderly Mr. Saturn.
On the way out of the offices, the gang runs into Mr. Itoi himself, and they grab a picture with him on the front steps. MOTHER fans everywhere go insane. They also stop by the Hobonichi gift shop, Tobichi where Mal picks up a planner/Techo.
Everyone eats sushi at the same Jetsons-like sushi restaurant they ate at yesterday. They head to Harajuku to do some shopping, making a visit to Kiddy Land, a world-famous toy store.
Stephen and the gang decide to end the day with dinner at McDonald's.
Community content is available under
CC-BY-SA
unless otherwise noted.