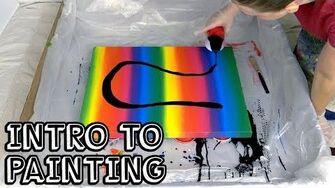 Previous Intro to Painting (Sonic) | Next Intro to Painting (Splatoon Inkling)
Earthbound Battle - Time Lapse Painting
"Earthbound Battle" is the 6th episode of Intro to Painting on MalMakes. In this episode, Mal shows how to make pour paintings as she paints the background of the Starman Super battle from Earthbound.
This painting is entitled "One-Twenty-Eight".
Materials
Edit
Canvas: 18x24 Gessoed in white
Brushes: Blick Studio, Liquitex Basic, and Simply Simmons
Paint:

Golden Heavy Body Acrylic in: Carbon Black, Titanium White, Primary Magenta, Primary Cyan, Primary Yellow, (optional) Introductory Color Set
Golden Fluid Acrylic in Interference Gold (Fine)
Golden High Flow Acrylic in: Titanium White, Carbon Black

Specialty Items: GAC 800, Princeton Catalyst Wedge #3, Plastic Sheeting, Palette, Chalk pastel pencil, T-square, Fine Mist Spray Bottle
Community content is available under
CC-BY-SA
unless otherwise noted.