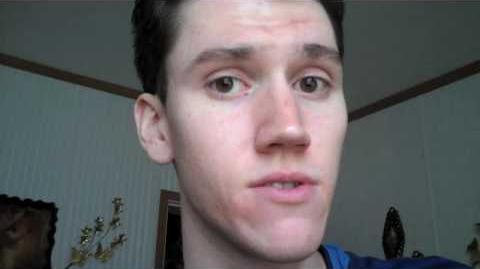 Previous Vlog (Day 25) | Next Vlog (Day 27)
Locations
Edit
Stephen's house
Golden Corral
Stephen reports immediately from his computer chair that a Ninten Speaks video, Ninten Sings Christmas Classics, is uploaded along with a link for the download of the album. He goes on to say that he is immensely relieved that all his editing work on Ninten Speaks and The Nutcracker project, excluding the vlog, is over, even if only temporarily.
He talks a bit about his girlfriend Mallory, who is visiting him in exactly two days and how excited he is by this. He also talks about how excited he is that he will also have fun things to do, reminding us how he missed Day 24 because nothing happened. Lastly, he's excited about how he can keep up with the vlogs now and how he is caught up.
Stephen and his parents eat out at Golden Corral. While entering the restaurant, Stephen comments that he hasn't eaten at Golden Corral since Thanksgiving on Day 2. Later on in the restaurant, Stephen powers on the Flip and begins to film his mother eating, commenting on how depressed she looks when she eats. Soon after Steve, Stephen's father, sits down at the table, and after staring at the Flip Ultra HD in amazement, shock, and awe, demands that the camcorder is removed from the interior of his face.
The three then then spend the rest of the evening wrapping Christmas presents, as Stephen points out after the Golden Corral meal (hence the title of today's vlog). Following the hours of wrapping, Stephen proudly claims that all of the gifts were wrapped with paper, just like booster backs for card games like Magic: the Gathering, and ends the vlog.
The title of today's vlog comes from Stephen saying "it's a wrap," and showing us that he will wrap presents for the time of Christmas.
Steve: "...get that thing out of my face."
Stephen: "And after many long hours, and I mean that, I mean like several, several, several hours, the pile of gifts has been changed into a pile of gifts covered in foil paper kinda like...big booster packs."