Previous Painting ("Repair-Type Bolt") | Next Painting ("Together")
"The Dunes" is Mal's 3rd video game painting on MalMakes.
This painting was inspired by Mal and Stephen's Let's Play of Journey, and depicts the Traveler looking towards the mountain.
This is Mal's second attempt at painting a Journey painting. According to the June 2016 Q&A, Mallory had actually painted another painting of Journey first, which didn't work out in the end.
Materials
Edit
Canvas: 18x24, gallery-wrapped
Paint: Titanium white, Mars black, primary yellow, primary cyan, primary magenta, cadmium red, golden retardant
Specialty Items: T-square ruler, tempered glass palette, palette knife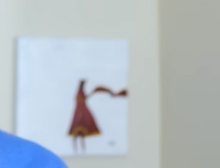 Posters and prints of this painting can be purchased here.
Mallory ended up keeping part of her first attempt, which now hangs next to the door in her studio.
Mal has since made another painting based on Journey.
Community content is available under
CC-BY-SA
unless otherwise noted.