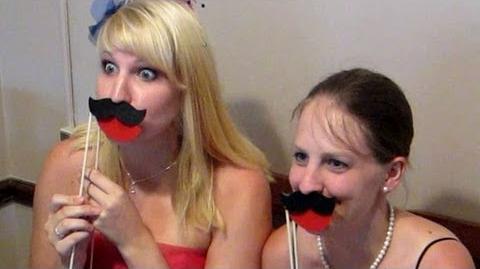 Previous Vlog (Day 955) | Next Vlog (Day 957)
Locations
Edit
Stephen's car
Perkins
Rhonda's house
Reception Hall
Stephen, Mallory, and Karley eat at Perkins and then Mark and Rhonda are married. Some of the wedding guests take pictures in props and Karley films all the food that is available at the reception hall. Afterwards, Stephen and Mallory bring a drunk Karley back home as some fireworks go off.
Where the logo for StephenVlog usually is, the word "KarleyVlog" was used instead.
The first KarleyVlog was Day 395.
The first Vlog that ended with backwards footage of Karley eating was Day 275.
The tags of this Vlog day are "perhaps maybe slightly intoxicated".
Karley: "I was s*** s***balls!"