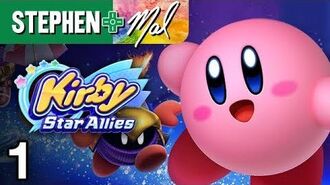 Kirby Star Allies is Stephen's 85th Let's Play and his 48th co-op Let's Play with Mallory. It is a blind LP.
This is the third Kirby game they've let's played, with the first two being Kirby Super Star and Kirby's Dream Course.
Kirby Star Allies debuted on May 9th, 2018 and concluded on July 21st, 2018.
It returned with the DLC Heroes in Another Dimension on June 29th, 2020 and ended on July 12th, 2020. The DLC was streamed on Twitch with all of the alerts and chat messages removed on March 27th, 2020. The VOD of the stream can be found here.
Episodes
Edit
Heroes in Another Dimension
Edit
Memorable Moments From This LP
Edit
Mal's favorite ability is Paint, and her favorite Dream Friends are Rick, Kine, and Coo.
Stephen's favorite new ability is ESP because of the reference to Ness, but also appreciates Staff because of the reference to Kid Goku. His favorite Dream Friend is Gooey.
Community content is available under
CC-BY-SA
unless otherwise noted.