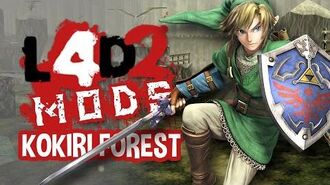 Left 4 Dead 2 Mods is a collaborative series between Stephen and Josh on Josh's channel. Stephen and Josh are joined by Mal and Dan as they play through two modded Left 4 Dead 2 maps based on Kokiri Forest and Death Mountain from The Legend of Zelda: Ocarina of Time.
In the series, each of them used custom player models based on video games, with Josh playing as Link, Stephen as Master Chief from the Halo series, Mal as 'Sanic', a butchered model of Sonic, and Dan as Joel from The Last of Us.
Their run of Kokiri Forest debuted on June 13th, 2015 and ended on June 30th, 2015. They then returned with the Death Mountain map from June 13th, 2016 to June 28th, 2016.
Episodes
Edit
Kokiri Forest
Edit
Death Mountain
Edit
Community content is available under
CC-BY-SA
unless otherwise noted.