m

 

(11 intermediate revisions by one other user not shown)
Line 1:
Line 1:
 
+

[[File:Stephen & Mal Lost in Nightmares 1|thumb|right|335 px|Thumbnail of the first episode of Stephen & Mal: Lost in Nightmares.]]'''Lost in Nightmares''' is [[Stephen|Stephen's]] 42nd Let's Play, the 2nd Let's Play for [[Resident Evil 5|''Resident Evil 5'']], and the 21st cooperative Let's Play with [[Mallory]]. This is the first DLC Let's Play for ''Resident Evil 5'', directly following the Let's Play for the game, which began three months ago. '''Lost in Nightmares''' debuted on October 8, 2014 and concluded on October 19, 2014 with a total of four episodes.

−

==Overview==

 
 
+
−

This is a DLC to Resident Evil 5, it began on October 8, 2014.

 
 
+

The 2nd DLC for ''Resident Evil 5'', entitled [[Desperate Escape|''Desperate Escape'']], is the next arc in the Stephen & Mal: ''Resident Evil 5'' Let's Play, which would begin just three days after the end of '''Lost in Nightmares'''.

 
+
 
+

[https://www.youtube.com/playlist?list=PLMrpfY5oU1Db-N5xKGxUZFt1nvT83kxpU Lost in Nightmares Playlist]

 
 
 

==Episodes==

 

==Episodes==

−

[[File:Stephen & Mal Lost in Nightmares 1|thumb|right|335 px|Thumbnail of the first episode of Stephen & Mal: Lost in Nightmares.]]

+

[:Stephen & Mal Lost in Nightmares 1 ]

 
⚫
 
⚫
 
+

*[https://youtu.be/UiTDbbRAGUY Stephen & Mal: Lost in Nightmares #4 - "JIIILL!!!"] (FINALE)

 
+
 
+

==Memorable Moments from this LP==

 
+

* [[Moonlight Sonata]] - Lost in Nightmares DLC #1

 
+

* [[Falling Corpses]] - Lost in Nightmares DLC #1

 
+

* [[Kool-Aid Man]] - Lost in Nightmares DLC #2

 
+

* [[Jill Sandwich]] - Lost in Nightmares DLC #4

 
 
 
+

[[Category:Let'sPlays]]

⚫
 
⚫
 
---
Latest revision as of 05:54, 14 August 2018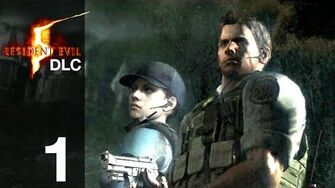 Lost in Nightmares is Stephen's 42nd Let's Play, the 2nd Let's Play for Resident Evil 5, and the 21st cooperative Let's Play with Mallory. This is the first DLC Let's Play for Resident Evil 5, directly following the Let's Play for the game, which began three months ago. Lost in Nightmares debuted on October 8, 2014 and concluded on October 19, 2014 with a total of four episodes.
The 2nd DLC for Resident Evil 5, entitled Desperate Escape, is the next arc in the Stephen & Mal: Resident Evil 5 Let's Play, which would begin just three days after the end of Lost in Nightmares.
Memorable Moments from this LP[edit | edit source]
Community content is available under
CC-BY-SA
unless otherwise noted.