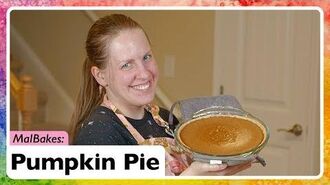 Next Cooking Video
This is the 1st Cooking video done by Mal on MalMakes.
Ingredients Used
Edit
¾ cups of dark brown sugar
½ tsp. salt
2 tsp. cinnamon
½ tsp. ginger
¼ tsp. cloves
½ tsp. nutmeg
¼ tsp. allspice
dash of vanilla
2 large eggs
1 (15 oz.) can pure pumpkin
1 (12 fl oz.) can evaporated milk
pie shell
Directions
Edit
Preheat oven to 425ºF.
In small bowl mix: sugar, salt, spices.
In large bowl beat: eggs. Mix in: vanilla, pumpkin, and sugar/spice mixture. Then, gradually stir in evaporated milk.
Prep pie pan with shell. Pull out oven rack and put pie pan in oven.
Pour mixture into shell while it's on the oven rack - carefully slide oven rack back in.
Bake for 15 mins. Reduce temp to 350ºF and bake for 35-50 mins until knife comes out clean. Cool for 2 hours on wire rack.