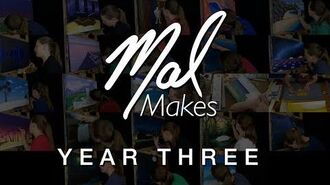 MalMakes: YEAR THREE is a video of Mallory showcasing what she worked on in 2018 and reflecting on her third year of creating paintings for MalMakes.
The video shows each painting Mal made in 2018, after which she thanks her viewers for supporting her and helping her channel grow. She then announces that she has released two new paintings: Pentaptych, which combines all the loading screen paintings from Donkey Kong Country Tropical Freeze, and Hexaptych, which has all six worlds from the game.
Mal also announces that she wants to make more how-to style videos, which means that she will be releasing fewer paintings each month.
Community content is available under
CC-BY-SA
unless otherwise noted.