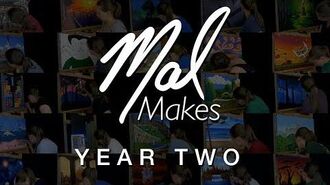 MalMakes: YEAR TWO is a video of Mallory showcasing what she worked on in 2017 and reflecting on her second year of creating paintings for MalMakes.
The video shows each painting Mal made in 2017, after which she thanks her viewers for supporting her and helping her channel grow. She then announces that she has released a calendar, featuring her best and most popular paintings from 2017, titled "MalMakes: Year Two" for purchase on RedBubble.
The calendar is no longer available for purchase.
Community content is available under
CC-BY-SA
unless otherwise noted.