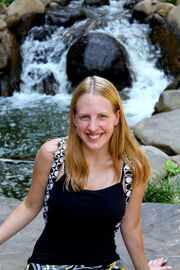 Mallory Georg (née Weir) is Stephen's wife, born April 6th, 1988. Her parents are Mark and Dawn, and she has one younger sister, Karley. She has appeared regularly on the vlog since Day 560 (6/7/11).
Mallory was born in Wisconsin, and lived there until she moved to South Carolina with Stephen in July 2011. She has a Bachelor of Science in Art Education from the University of Wisconsin - Stout, and graduated college in 2011, the same year as Stephen.
She enjoys photography, sewing, playing video games, and teaching. She was formerly a high school art teacher. She also has a sweet tooth.
In November 2012, one year and three months after they got married, Mallory was finally able to become a Georg.
Stephen and Mallory
[
]
Back in 2007, Mallory joined Starmen.net, a website devoted to a Super Nintendo game called Earthbound. It just so happens that 5 years prior, Stephen had become a member. There are thousands of members online, but somehow Mallory and Stephen found each other. They began chatting and Skyping on a daily basis.
In March 2008, it couldn't be held in any longer. Both admitted they had feelings for each other and for all intents and purposes began "e-dating". It wasn't the easiest thing to do, but if they could make it to June, they'd be out of college for the summer and able to finally meet in person.
...and they made it! When June rolled around, Stephen and Mallory spent a week together in Wisconsin and finally proved to themselves it was all very real. They knew if the relationship was going to continue, it'd need to be nurtured—they couldn't truly be together until college was over, and that was 3 years away. The 1,000 mile distance seemed much further when the length of time was so great. Despite all this, they've pulled through. A few visits a year, combined with spending entire summers in South Carolina, helped them survive until August 2011, when they could finally be together forever.
Appearances on the Vlog
[
]
Mallory has made almost daily appearances since Day 560, when she and Stephen moved in together. They now currently live together in a rented house in Myrtle Beach with their enchanting cat Kepler and, until recently, Sagan.
MalMakes
[
]
In January 2016, Mal started her own YouTube channel, MalMakes, which features video game paintings and painting tutorials. The original paintings are auctioned off on eBay, while various mass-produced products can be purchased on her RedBubble store, such as prints, posters, and shirts of her paintings.