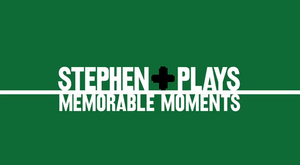 Memorable Moments
is a series of highlights from StephenPlays videos chosen by the viewers, which debuted on September 18th, 2011, with
The Death of Sammy 3.0
.
As of June 1st, 2015, a new Memorable Moment is uploaded every Monday through Thursday, except during May, when they are released every day.
List of Memorable Moments
Edit
Memorable Moments from a specific Let's Play can be found on the Let's Play page.
For a full list of Memorable Moments, see either:
Both intros for Memorable Moments were created by Dan.
Stephen created the intro audio in one take.
On Vlog Day 1907, Stephen said he couldn't handle making Memorable Moments, so he asked Dan if he could make Memorable Moments.
On Vlog Day 1948, Stephen received the finished memorable moments from Dan, totaling 565 Memorable Moments.
The Memorable Moments schedule changed on June 1, 2015 from every Monday and Thursday to Monday through Thursday.
On May 26, 2016, Memorable Moments merged into one playlist instead of three. It was previously separated due to YouTube's limit on the number of videos that could be in a playlist, which had recently been changed.
On March 20, 2018, the 1000th Memorable Moments video was released.

March 20th is also Stephen's birthday.