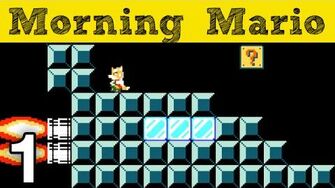 Morning Mario is Stephen's 61st Let's Play. The series allows viewers to submit level suggestions in Super Mario Maker, which Stephen then tries to complete. Morning Mario videos come out every weekday at 6am EST.
Morning Mario was announced on September 18th, debuted on September 21st, 2015, and went on hiatus on November 2nd, 2018.
Morning Mario returned on July 1st, 2019 with the release of Super Mario Maker 2 and is currently ongoing.
[Show/Hide]
[Show/Hide]
[Show/Hide]
[Show/Hide]
[Show/Hide]
Memorable Moments From This Series
[
edit
|
edit source
]
Stephen initially collected levels using a Google Form. However, starting with Morning Mario #254 (on September 22, 2016), he switched to a new system for collecting user-submitted levels, with help from Chaz. This new system allows players to play other user-submitted levels and rate them on a scale from 1-5 stars. The highest rated levels are played on Morning Mario, respectively.
All episodes of Morning Mario up to #560 were edited by Stephen. All subsequent episodes have been edited by Dan as of Day 2927.
Starting from Morning Mario #680, Stephen began asking the viewers a question every 5th episode, or on every Friday episode of the series. Some questions have generated incredibly interesting replies, like this one.
At the end of Morning Mario #785, Stephen announced that the series would be going on hiatus after episode #800, due to not enough people rating or submitting quality levels. In a reaction video to the February 2019 Nintendo Direct, as well as Day 3368, Stephen announced that Morning Mario will return with Episode #801 in June 2019.
As of episode #801, Morning Mario is using Super Mario Maker 2 to play user-submitted levels, and also an edited version of the system made by Chaz.
Community content is available under
CC-BY-SA
unless otherwise noted.