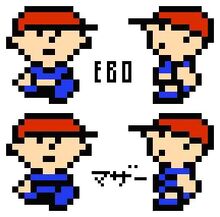 Ninten
is the protagonist of the game
Mother
, as well as
Stephen
's Alter Ego on the channel
Ninten Speaks
.
The character of Ninten that Stephen created originated from
Loids Are Not Christmas (LanC)
, a radio show based on the events of
Mother
. In the show, Stephen voiced Ninten and portrayed Ninten as not knowing what was going on. This was because at the time of recording, Stephen himself had never finished
Mother
and thus also didn't know what was going on.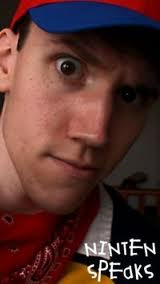 Ninten Speaks
Edit
After LanC ended, Stephen started his own radio show entitled Ninten Speaks, where he would talk like Ninten about random topics. These were uploaded on to his old main channel (what is now Stephen's Basement), as well as iTunes.
After the first 10 episodes of Ninten Speaks, Stephen decided to create a channel (called Ninten Speaks) dedicated to video episodes of the series. This meant that Stephen would dress like Ninten (in Mother) by putting on a yellow and blue striped shirt as well as keeping his iconic voice. In these videos, Stephen would talk about various random topics as Ninten.
Stephen also recorded a Christmas album as Ninten, where he would improvise some of the lyrics. It was first teased on Day 10 of the vlog, when he recorded himself singing Winter Wonderland as Ninten. He released the album announcement video a few weeks later on Ninten Speaks.
The last episode of Ninten Speaks was uploaded October 11th, 2010.
After starting what are now his main channels (StephenVlog and StephenPlays), Stephen did not have time to create proper Ninten Speaks content. This led to him starting Ninten Plays Minecraft in which Ninten is stuck in an alternate dimension and has to do what he can to survive. The series lasted 56 episodes, and ran from November 28th, 2011 to October 15th, 2012.
Since then...
Edit
Ninten has made only a few appearances on the vlog or LP channel. On the vlog, Ninten made an appearance on Day 1834 to announce that a link was available to download the Ninten Christmas Album.
Recently on April 1st, 2017, Stephen released Ninten Pack on StephenPlays, which combined Ninten Speaks and Daily Pack, two of Stephen's past series.
Loids Are Not Christmas is part of the Fobbies are Borange series.
Ninten Speaks was initially how Stephen advertised his vlog, saying that it is the life of the man behind Ninten.
Since recording Loids Are Not Christmas, Stephen has played through Mother in its entirety on StephenPlays.
The Ninten Christmas Album is currently not downloadable. The link was dead for a long time until Stephen made it downloadable on Day 1834. Since then, the link has died once again.
On one of Stephen's other channels, xfisjmg1, his third most popular video is going to McDonalds and ordering a burger while acting Ninten.
Everything that Ninten knows how to do in Minecraft was shown to him by Bear.

At the end of the first episode, Ninten freaks out after being blown up by a creeper, and then he learns his lesson and actually starts doing what he's supposed to because he saw Bear do it, and whatever he magically knows what to do, he says Bear showed him how to do this.

In episode 51 of Ninten Plays Minecraft, Stephen sings a coal song, which references the song he sang for coal in his original Minecraft LP on StephenPlays.