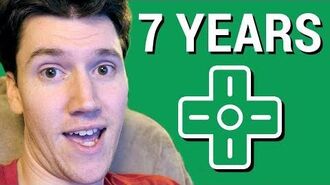 StephenPlays turns seven years old today! Stephen continues his annual tradition of giving some statistics on the channel and looks back on the projects he (and Mal) completed on the channel over the past year.
Statistics and Projects
Edit
Overall Statistics

Total subscribers: 149,000
Total views: 92,000,000
Total videos: 4,631

Year-specific Statistics
Feb 7 '17 - Feb 7 '18

New subscribers: 15,000
Views: 18,500,000
Likes: 486,000
Shares: 13,000
Comments: 67,000
Videos (StephenPlays only): 928

Videos with Highest Watch Time

Skyrim #283 (The End) - 2 million minutes (4th year in the row)
The Runaway Guys: Dungeons & Dragons - 1.5 million minutes
Skyrim #1 - 800,000 minutes.

Most Viewed

Skyrim #283 (The End) - 284,000 views (Also 4th year in the row)
Skyrim #1 - 165,000 views
Pikmin IN REAL LIFE (Pikmin 2 LP announcement video) - 137,000 views

Videos and Series Released:
Videos and Series to be Released:

Super Mario 3D World (Secret Worlds)
The Walking Dead Season 4
Fallout 4 (Nuka World)
Magic the Gathering: Arena
The Legend of Zelda: Breath of The Wild
Red Dead Redemption 2
Streaming (Stephen's hope)
Community content is available under
CC-BY-SA
unless otherwise noted.