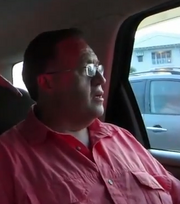 Steve (a.k.a. Papa Georg) is the Ultimate Champion. He is also Stephen's father and the husband of Debra. He appears frequently on the vlog and is famous for wearing a white V-neck T-shirt.
Steve may appear to have a quiet and calm nature about himself, but he is actually very outgoing: on Day 263 of the vlog, fans got a larger glimpse of his personality through a memorable game of Charades.
On Day 568, Stephen mentions that Steve used to be a professional car detailer.
On Day 2957, Stephen mentions that Steve vacuums his house every day.