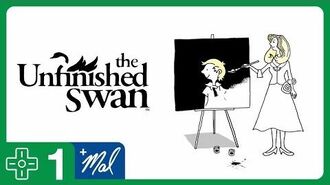 The Unfinished Swan is Stephen's 87th Let's Play and his 49th co-op Let's Play with Mallory, with Stephen playing on odd-numbered episodes and Mallory playing on even-numbered episodes. As with most other LPs on his channel, it is a blind play-through.
The Unfinished Swan was created by Giant Sparrow, the same company that would later release What Remains of Edith Finch. Since Stephen really enjoyed playing What Remains of Edith Finch for First20, he wanted to experience the first game before jumping into What Remains of Edith Finch.
The Unfinished Swan debuted on July 24th, 2018 and ended August 11th, 2018.
Episodes
Edit
Stephen talked about his impressions of the game in the vlog on Day 3156 (spoiler-free!).
Mal made a painting inspired by this game, entitled "Contrast".
Community content is available under
CC-BY-SA
unless otherwise noted.