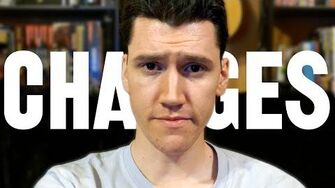 Previous Vlog (Day 2342) | Next Vlog (Day 2344)
Locations
Edit
Stephen and Mal's apartment
2016 is the year of changes for StephenVlog. Stephen takes today to highlight some of the major changes to come, and that have already come, to the channel.
Titles. In earlier vlogs, Stephen played around with transparent or inverted-color letters, but eventually settled on the good old white text. He has since started doing motion-tracked titles and he really likes the way they look.
End slates. Stephen did a lot of experimenting with the end slates recently and has settled on something brief and concise that allows him to choose any background music he wants.
Camera. Stephen replaced his old Canon PowerShot Elph 300 HS with a Panasonic Lumix ZF100.
Editing. Recent vlogs have started being edited in more fun and creative ways, and they now include different cuts, graphics, and filming styles.
Video titles. The day numbers of the vlog titles have been ditched for two reasons. First, the day number might be a barrier for people who want to start "The Journey". Secondly, milestones that may have been more significant earlier on in the vlog (days 100 and 1,000) aren't as important any more.
Why all the changes? Stephen has had a creative itch for a long time, and the vlog is really the only way he can satisfy that itch. He has had a ton of fun editing the vlog in the past few weeks, and he hopes that the viewers have had a lot of fun with him.
Community content is available under
CC-BY-SA
unless otherwise noted.